Meeting/Event Information
Virtual Town Hall: Forecasting & Planning During The Chaos of a Global Pandemic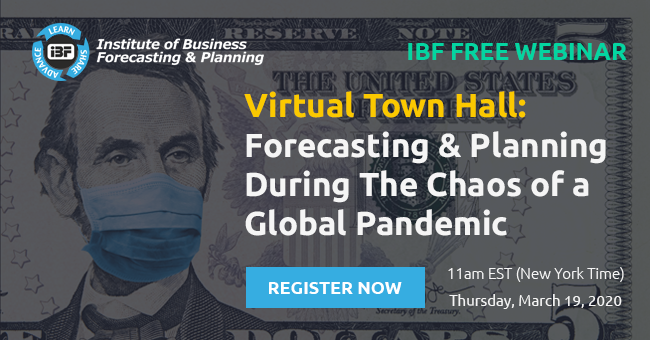 Join the Institute of Business Forecasting & Planning on Thursday, March 19, 2020 at 11 am EST for a virtual town hall on how to forecast and plan effectively during this global pandemic. There is no cost to attend.
Myself and 3 forecasting and planning experts including veteran Directors of Demand Planning and Heads of Supply Chain at global companies will answer whatever questions you may have.
We will discuss the impact of Covid-19 on business planning, and draw from our experience in managing other crises and economic turndowns to reveal how to react. This interactive panel discussion is designed to mitigate risk and protect your company's bottom line.
Topics include
How to be more agile in forecasting and planning to respond to demand disruptions caused by coronavirus
How long the coronavirus outbreak will impact your business and what to plan for
Importance of knowing your customers in times of crisis
Cost of over or underreacting to unforeseen events like a pandemic
How S&OP helps or has to change in response to unplanned events
The role of forecasting and demand planning and stepping up to mitigate risk
Working remotely and building forecasts without face to face interactions
Omnichannel and how customers in different channels will react, and how we can build channel specific responses